Lavocderma
Regular price
Sale price
$15.60 USD
Unit price
per
Sale
Sold out
This Facial gel has a light, refreshing texture that packs with natural ultra-fine bamboo dust exfoliant to gently and effectively loosen and remove rough, dead skin cells. A carefully selected blend of essential oils assists in repairing and toning the skin's texture and helps in eliminating impurities and soothes the skin. Bamboo eliminates acne, dark spot, and redness without drying the skin.
BENEFITS:
Prevent any damage to sensitive skin due to inflamed skin conditions.
Fine Bamboo particles absorb the toxins of the skin and at the same time cleanses and removes the dead skin. 
Can be used as a daily treatment to avoid acne. 
DIRECTION FOR USE:
After cleansing your face apply a small amount of Gel to your entire face in circular motions avoiding the eye area. Rinse off using tepid water or a dampened soft cloth being sure to remove all traces of exfoliating granules.
The absorption of active ingredients will be enhanced once dead skin cells are removed. Use Daily or 2-3 times a week or as needed.
MAIN INGREDIENTS:
Fine bamboo Powder- Bamboo is known for its natural silica and methanol that acts as a healing agent on the skin. It is composed of antioxidants that minimize skin aging and contains natural minerals that help cleanse the skin. The anti-inflammatory and anti-bacterial properties help promote cell-growth that is perfect for people with severely dry skin.
Aloe Vera leaf juice- Aloe vera is the best soothing gel that is best for inflamed skin with its cooling effect and properties. It lightens any blemishes on the face, reduces infections from acne, heals skin, and one of the best powerful moisturizers on the market. 
Vitamin E- This vitamin consists of anti-oxidant and anti-inflammatory properties that support the skin from damage under the sun. It fights free radicals from the toxins in the environment to produce healthy, younger-looking skin.
OTHER INGREDIENTS:
Avocado oil, Purified Water, Cete aryl Alcohol, Glycerin, Stearic Acid, Fine Bamboo Powder, Ceteareth 20, Decyl Glucoside, Jojoba Oil, Aloe Vera Leaf Juice, Polyacrylate Crosspolymer-6, Phenoxyethanol, Natural Vitamin E, Caprylyl Glycol, Vitamin B5, Cocoa midopropyl Betaine, Sodium Lauroamphoacetate, Cedarwood Oil, Orange Sweet Oil, Sodium Chloride, Bergamot Oil, Sodium Hydroxide, Cinnamon Leaf Oil, tert-Butanol, d-Pantolactone, Carbomer, 3-aminopropan-1-ol, Ethylhexyl glycerin, Glycerin, Disodium EDTA
Share
View full details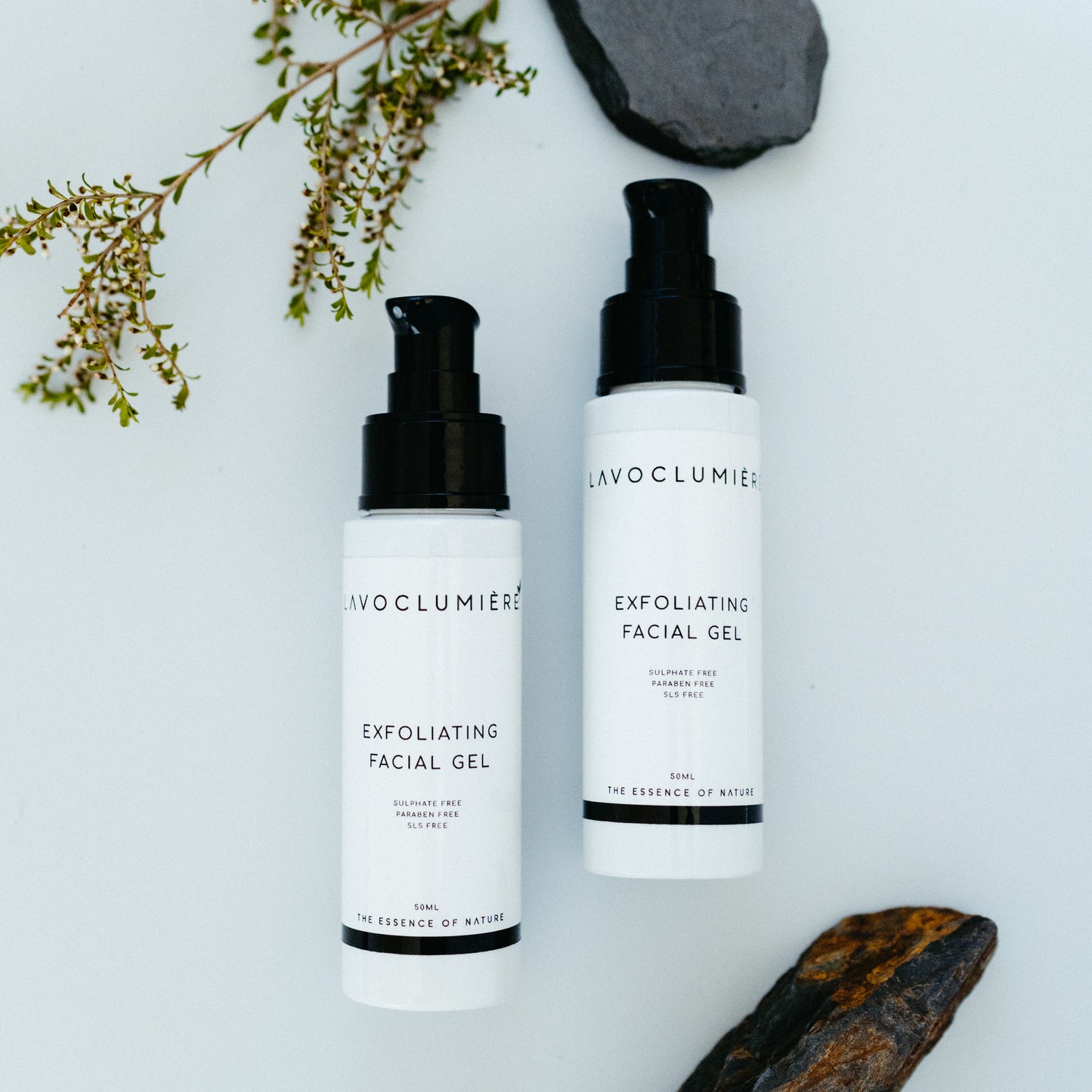 Love love love
I have been using this product for a while now , it's my go to exfoliator. It's gentle but with a light grit , leaving your skin so smooth and polished.
I have super sensitive skin with eczema around my eyes and nose at times and this product gives me no trouble.
Thank you lavocderma
loved it!
Bought it for my dark skin colour on the face. very gentle and does not damage my skin. removed all the dead skin and helped remove the dark skin.
Thank you.
Frequently Asked Questions
Why are Lavoc products different?

Lavoc products differ from others because we use 100% Australian avocado oil, which has high amounts of Oleic acid, a powerful anti oxidant essential in helping heal and repair the skin.
Are LavocDerma products good for my sensitive skin?

Most of our products are made from natural ingredients, and do not contain added preservatives and harsh chemicals found in many cosmetic products.

Please consult your health care professional if your symptoms continue without any improvement.
Do you ship worldwide?

Yes we do! We can ship our products to most countries across the world. Please check out our website on checkout options. Please email us on info@lavocderma.com.au if you have any queries. Please note due to the Covid-19 crisis Australian post shipping will be delayed.