Lavocderma
Regular price
$29.29 USD
Sale price
$16.95 USD
Unit price
per
Sale
Sold out
Our Double Strength Dry Skin Flare Up Cream is the first line of defence when looking for immediate relief from an eczema flare-up. 
Enriched with the antioxidant, Oleic Acid from avocado oil, this powerhouse cream will help relieve the skin from severe chapping and bleeding caused by inflammation or scratching. 
When this avocado face cream is used regularly, you'll be able to reap the benefits from as fast as 48 hours!
BENEFITS:
Long periods of corticosteroids use will thin the skin and hence this is the best safest natural way to manage eczema long-term.

This deeply moisturising cream is the best remedy for severely dry skin and eczema conditions.

Avocado oil cream contains anti-inflammatory properties that will help repair the skin, provide nourishment and relief

The cream contains 100% Australian Avocado Oil.
DIRECTION FOR USE:
Apply every 2-3 hours when facing a severe dry skin flare up
SIZE:
100G or 500G
INGREDIENTS:
Aqueous Cream, 100% Australia Avocado Oil.
Share
View full details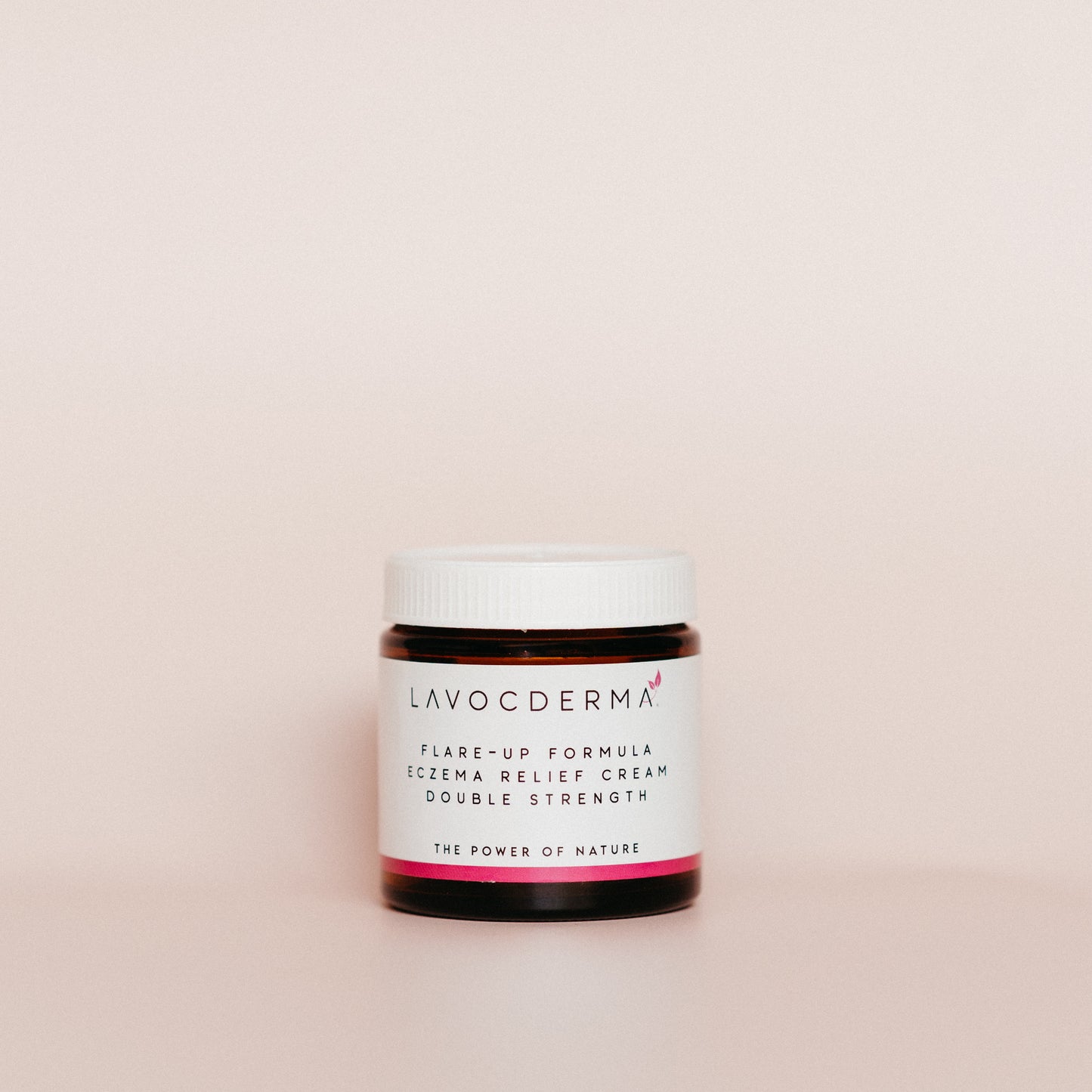 Amazing
This is the first time I've tried this product's I absolutely love it. It is help my eczema so much. Makes my skin feel amazing it takes redness out And Moisturises my skin My hands are covered in eczema, And I had trouble finding a treatment to help relieve it , I just want to say thank you for this product is really helped me. I couldn't live without it ❤️
Double Strength Flare up
We loved the texture of the cream and all but it has bot made much difference for eczema nor has it made it worse. 3 Star is thus a neutral review.
Your Skin will Love this!
This is a Luxurious cool soothing cream that deeply moisturises, not sure its going to heal what is going on with my break out skin this summer, but it definitely is giving me some relief & with continued use is keeping my skin feeling soft, smooth & moisturised.
Would recommend this as an affective moisturiser for irritated dry skin in any case having tried so many moisturises that simply do not work.
Haven't received it yet can't comment
It works !!!!
My son suffered from severe eczema for years. I went to different dermatologists, bought so many kind of products without success. I found this community pharmacy which offered a local made product with no nasties! It was a miracle
, my son's skin improved in a matter of few days
Frequently Asked Questions
Why are Lavoc products different?

Lavoc products differ from others because we use 100% Australian avocado oil, which has high amounts of Oleic acid, a powerful anti oxidant essential in helping heal and repair the skin.
Are LavocDerma products good for my sensitive skin?

Most of our products are made from natural ingredients, and do not contain added preservatives and harsh chemicals found in many cosmetic products.

Please consult your health care professional if your symptoms continue without any improvement.
Do you ship worldwide?

Yes we do! We can ship our products to most countries across the world. Please check out our website on checkout options. Please email us on info@lavocderma.com.au if you have any queries. Please note due to the Covid-19 crisis Australian post shipping will be delayed.