Lavocderma
Regular price
$63.60 USD
Sale price
$32.90 USD
Unit price
per
Sale
Sold out
Our face And Beard Kit Contains - 
1. Ultra Gentle Foaming Face Wash
2. Beard Oil
3. Dry Scalp Formula 2 Hair Oil

1. Ultra Gentle Foaming Face Wash:

Our face wash cleanses the face keeping it hydrated. When using this face wash it gives off the face a bright glow. Use twice a day daily. The foam is gentle on the sensitive skin keeping it nurtured throughout the day. By using this face wash you can now have a cleansed and hydrated face.

Get more out of every shower with this do-all product. The gentle and cooling formula is the perfect hair and body rinse. With oils that nourish the skin and our combination of anti-pollution actives, this product is the perfect multitasker to both build your skins barrier defence for the day and wash off build up at night. Spend more time out of the shower with this all-in-1 product – great to take travelling or to the gym.

Features: Sulphate free, Paraben-free, Mineral oil-free, Artificial colour-free, SLS free and Vegan Friendly.

Usage: Squeeze a small amount into hands and lather over hair and body. Rinse well. Avoid contact with eyes.


LAVOC DERMA BEARD OIL contains and blends of Avocado Oil, Almond Oil, and Olive Oil. 
Rich moisturizing blend to soothe and soften your beard and under the skin. Especially used in the stubble stage to get great results. 
Directions: Use 1-2 sprays of the Oil as required and gentle rub deep into the beard and under-skin Twice daily. 
3. Dry Scalp Formula 2 Hair Oil:
Our  Dry Scalp formula 2  is best known for relieving most dry and itchy scalp conditions for Children and Adults alike. Help reduce hair loss and dandruff.
This is a combination of 5 different oils. This oil is not "oily" on your scalp as we have created a special absorbing formula. Relieves the redness and inflammation of the scalp and at the same time providing a cooling and moisturizing effect. 
Directions: Use twice daily and rub it into the scalp. Wash off with Lavoc Derma Shampoo and Conditioner every 2-3 days. 

Ingredients: Avocado Oil, Castor Oil, Liquefied Paraffin Oil, Olive Oil and Almond Oil 

NO ADDED CHEMICALS.
NO ADDED PRESERVATIVES. 
NO ADDED FRAGRANCE. 
MADE IN AUSTRALIA.
Share
View full details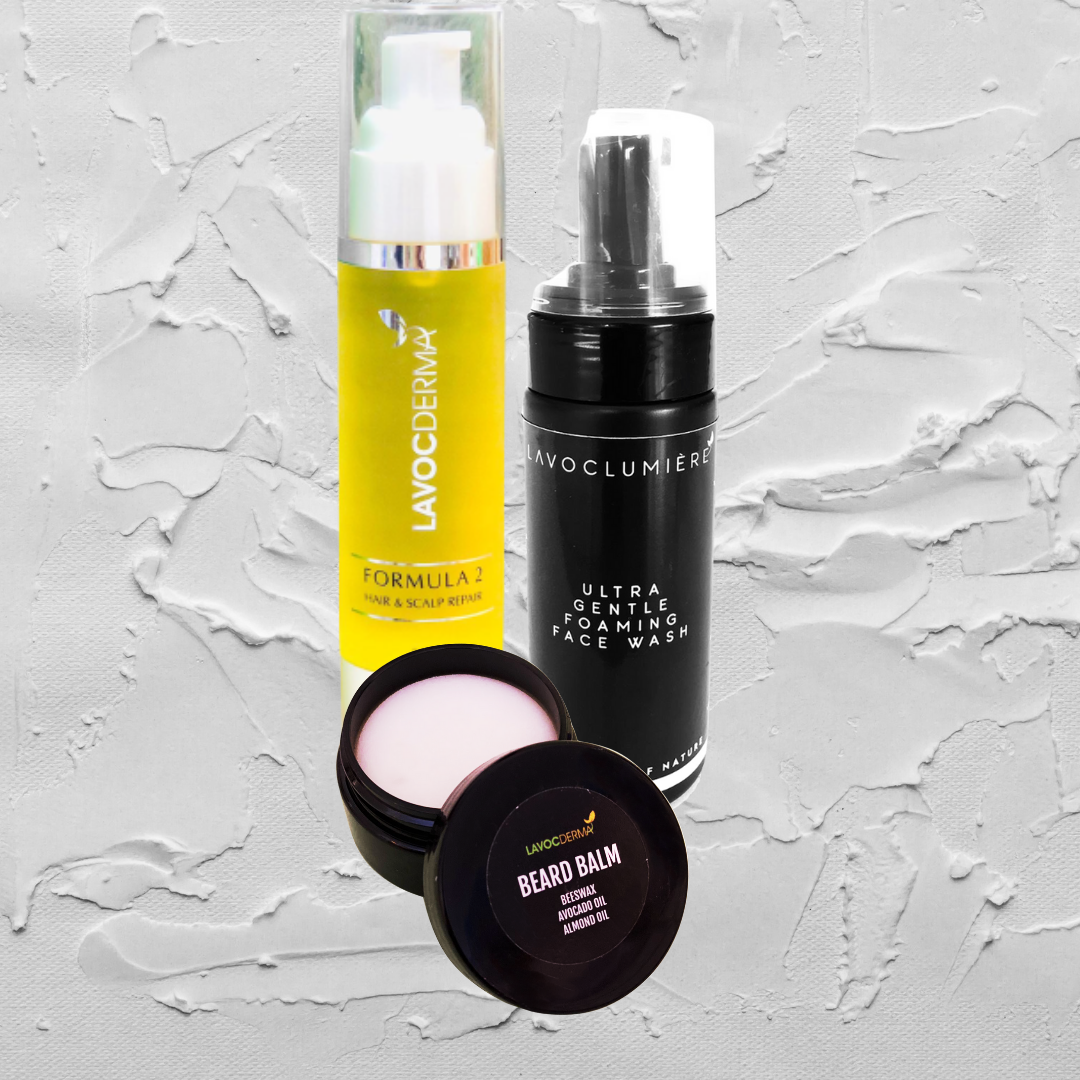 Frequently Asked Questions
Why are Lavoc products different?

Lavoc products differ from others because we use 100% Australian avocado oil, which has high amounts of Oleic acid, a powerful anti oxidant essential in helping heal and repair the skin.
Are LavocDerma products good for my sensitive skin?

Most of our products are made from natural ingredients, and do not contain added preservatives and harsh chemicals found in many cosmetic products.

Please consult your health care professional if your symptoms continue without any improvement.
Do you ship worldwide?

Yes we do! We can ship our products to most countries across the world. Please check out our website on checkout options. Please email us on info@lavocderma.com.au if you have any queries. Please note due to the Covid-19 crisis Australian post shipping will be delayed.